Elly Lin:  Well known and in high demand, around the world for her exceptional floral art, Elly Lin is among the very top of international floral designers, and instructors. Her fusion of Ikebana and international floral design philosophies, bring together an approach to floral design that is very relatable, and unique. The wonderful and intricate techniques Elly teaches in her workshops will bring you years of inspiration. She has been featured in numerous international magazines, newspapers and periodicals. Throughout the year, her demonstrations, and floral fashion shows in Asia, draw throngs of devotees. 
From Fusion Flowers Magazine, "Elly Lin is a well-known floral designer in Asia! In 1994 Elly won the first prize of TFTD Taiwan Cup Flower Design Competition. In 1995 she was the champion of the 1st Asia Cup Flower Design Competition. In 1997 she won third prize at the Interflora World Cup Competition in Holland. During 1994 to 2011(through 2016), she is frequently invited to perform her flower design as well as teach around the world such as Germany, Holland, Spain, Greece, US, China, Australia, New Zealand, Japan, South Korea, Hong Kong, etc.".  
"Moreover, Elly had many kinds of design experiences as the theatre stage, Hana Kyougen in Kyoto, Ellys Flower Exhibition- Botanical Fashion, and Fashion Hunting Vogue/ GQ Talents at MOCA Taipei. She was also invited as a judge in different floral international competitions. She published several books such as Elly's Botanical DIY (2007), and Elly's Botanical Fashion (2003)." 
---
 Coming Events!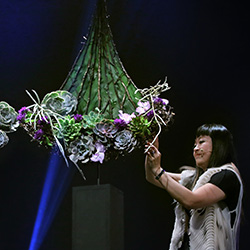 Forms for Room Structures
When: Feb 23rd & 24th, 9am – 5pm
Where: The History Club of Los Gatos
123 Los Gatos Blvd.
Los Gatos, Ca.
EVENT DETAILS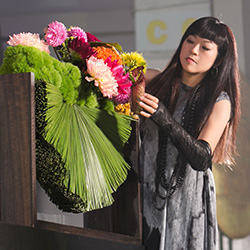 Forms for Tabletop Structures
When: Feb 25th & 26th, 9am – 5pm
Where: The History Club of Los Gatos
123 Los Gatos Blvd.
Los Gatos, Ca.
EVENT DETAILS